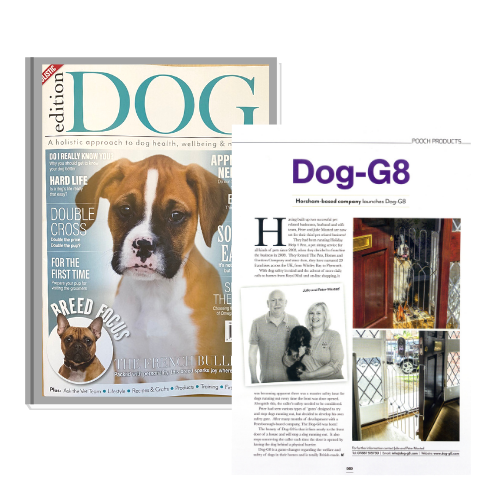 Horsham based company launches Dog-G8

Having built up two successful pet related businesses, husband and wife team, Peter and Julie Maxted are now set for their third pet related business! 

They had been running Holiday Help 4 Petz, a pet sitting service for all kinds of pets since 2002, when they decided to franchise the business in 2009. They formed The Pets, Homes and Gardens Company and since then, they have nurtured 29 franchises across the UK, the Whitley Bay to Plymouth. With dog safety in mind and the advent of more daily calls to homes from Royal Mail and on-line shopping, it was becoming apparent there was a massive safety issue for dogs running out every time the front door was opened. Alongside this, the caller's safety needed to be considered. 

Peter had seen various types of 'gates' designed to try and stop dogs running out, but decided to develop his own safety gate. After many months of development with a Peterborough-based company, The Dog-G8 was born! 

The beauty of the Dog-G8 is that it fixes neatly to the front door of a house and will stop a dog running out. It also stops unnerving the caller each time the door is opened having the dog behind a physical barrier. 

Dog-G8 is a game-changer regarding the welfare and safety of dogs in their homes and is totally British-made.