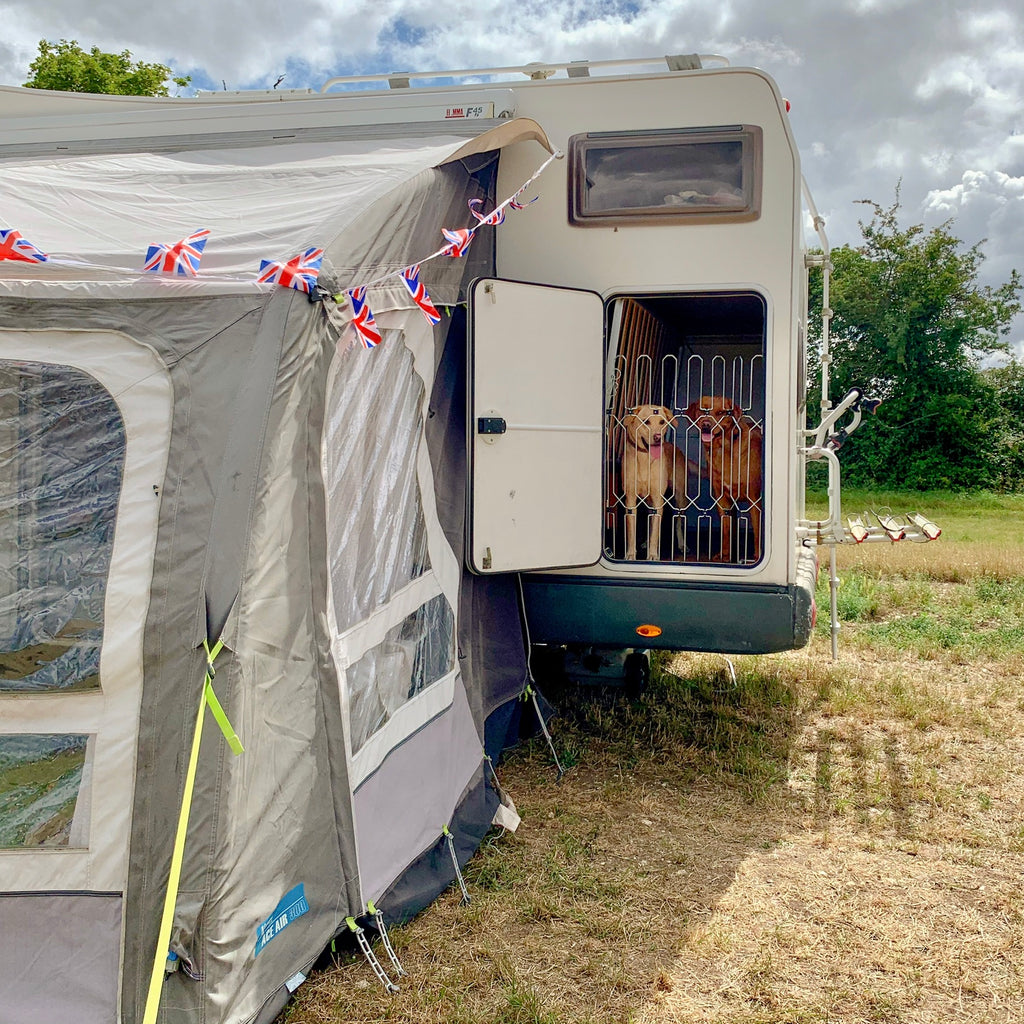 8 top tips for almighty motorhome bliss with your dog

You're hitting the open road with your dog at your side, how heavenly.

Packing up for a motorhome adventure on the road with your hound is the ultimutt dream for most of us. The wind in your hair (or fur!), tunes turned up, and nothing but the open road ahead and a world of opportunity.

Our top tips are here to help you take care of the practicalities so you can crack on with enjoying your epic adventures together.  

 

8 top tips for motorhome bliss with your dog.

 

1. Secure your dog while driving

It's a legal offence in the UK to drive with a dog on board without having them suitably restrained. This is for your dog's safety, your safety, and for your passengers.

In the event of a sudden stop or an accident, if your dog isn't securely restrained, they can become like a flying missile within your vehicle.

You also run the risk of your dog bolting if emergency services need to attend. Flashing lights, the shock of the incident, and the commotion outside would likely result in most dogs feeling scared and ready to make a dash for it.

You could use a dog travel harness, a crate, or a seatbelt accessory. There are a range of crash-tested travel products for dogs on the market which are the ultimate in pet travel safety.

 

2. Take regular pit stops - or wee breaks (let's be honest)

If you're going to be on the road for a long stretch, then it's a good idea to stop every 2-3 hours for a toilet break and a leg stretch…. For both dogs and humans.

Ideally, you don't want to be leaving your dog unattended in the vehicle, so if you're travelling with company, then we'd recommend taking it in turns to access the services.

Leaving your dog alone in your vehicle puts them at a greater risk of dog theft and, of course, of overheating in hot temperatures.

 

3. Plan your sleeping arrangements

You'll likely want to follow a variation of what you do at home. If your dog(s) are allowed on the bed for a snuggle fest at night, then there's no reason not to continue this routine on the road.

If you prefer your dog to sleep in their own bed, then bring it along with you for your trip. You can pop it on one of the seats or the floor if there is space.

It's worth bringing some spare blankets with you just in case your dog suffers from any car sickness or finds something incredibly special to roll in!

 

4. Find dog friendly places to visit

Dogs certainly help us find the joy in life, and being together exploring new places is a wonderful experience you'll cherish forever. Ideally, you'll find dog friendly everything in the place you visit, so you won't have to worry about leaving your dog alone in your motorhome or caravan while you go out to eat or explore.

You can find some fabulous dog friendly spots to try across the UK here.  

 

5. Keeping your dog safe on campsites

The hustle and bustle of a campsite or all the interesting smells of a rural escape if you're wild camping can be very tempting for our dogs. They want to relax at your side, but the lure of all the novelty that lays outside is too much to resist at times.

On those warm summer days and evenings (is that wishful thinking?!), you may want to keep the door to your caravan or motorhome open. A Dog-G8 Motorhome can easily be attached to the entrance to keep your dog safely within while you let the cool air breeze circulate.

 

6. Pack some enrichment toys, fillers, and chews

When you want to spend an evening just gazing at the stars or relaxing by the campfire, it pays to be prepared. This is the perfect time to give your dog a stuffed Kong, a snuffle mat, or a long-lasting chew to help them wind down after a day filled with fun.

Liver paste, squeezy cheese, and xylitol-free peanut butter are all small yet very tasty fillers for your Kongs and interactive feeders. They don't take up much room, but they take a while to devour! Meaning silent stargazing for you… Ok, there may be a few enthusiastic slurps!

In terms of chews, the low odour might be preferable given you are sharing a small space with your dog! Himalayan yak chews are a winning choice since they last a while and are completely pong-free! Wahoo!

And for your dog's snuffle mat, you can simply sprinkle some grated cheese, leftovers, or crumbly dog biscuits for some quiet sniffy time. 

 

7. Think about packing windbreakers

Windbreakers are a brilliant visual barrier to give you some privacy but also to block your dog's view on a campsite!

If your dog is a bit of a barker or feels the need to guard their surroundings, then creating a private little screened area around your motorhome or caravan can really help your dog to relax.

Your new neighbours will thank you for it!

 

8.  Don't forget the boring stuff

In the excitement to head off on a great motorhome adventure with your dog, it can be easy to leave the boring yet essential stuff at home.

Make sure you bring along your dog's tag, any medicine they may need, insurance records, and microchip details. It's also a good plan to pack more of your dog's food than you think you'll need, so you don't need to go scouting around town hunting for your dog's favourite chow!

Of course, we hope that your trip will go smoothly but should something happen, it's a lot less stressful if you have everything you could need to hand. Your dog's tag should have your phone number on it, and having your dog's microchip details to hand means it's easy to alert the relevant people in the event your dog goes off for a wander or gets lost.

And that's it. Happy travels. Have a whale of a time adventuring with your best friend. It's what dreams are made of.

We'd love to hear all about your travels. Drop us a comment below or share your dog's on tour pics with us on social media. Find us on Facebook here.